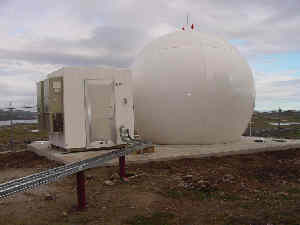 Iqaluit Site TT&C Ka-band 29.5 GHz 18-ft. (5.5m)
diameter radome for Loral Space and Telesat Canada.

Ocala, Florida, August 22/Internet --- Antennas for Communications (AFC) announced today that it has completed its contract with VertexRSI for the manufacture and installation support of two Ka-band 29.5 GHz 18-ft. (5.5-m) diameter dielectric radomes. The radomes are used in the Canadian Arctic region as part of the Loral Space and Telesat Canada TT&C earth stations Wildblue project. WildBlue plans to be the first to launch Ka-band spot beam satellite technology designed to lower the cost of providing high-speed Internet access via satellite. The dielectric radomes were specifically designed to protect the Ka-band frequency TT&C control antenna systems from the extreme weather characteristics of the region.

Telesat will provide telemetry tracking and control services for WildBlue's first satellite manufactured by Loral, WildBlue 1, to be launched in 2002. WildBlue plans to roll out affordable two-way broadband services via direct to homes and small offices throughout the contiguous United States. The company will then expand service to Canada and Latin America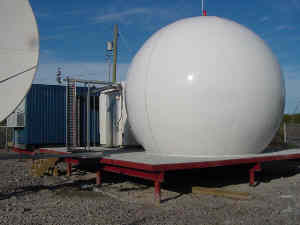 Yellowknife Northwest Territories Canada TT&C
Ka-band 29.5 GHz 18-ft. (5.5m) diameter radome.

"Dielectric radomes give Ka-band systems all weather operational capability under extreme Arctic climate conditions as well as locations under hot, salt, wet and windy environments" said Dr. Ronald S. Posner, AFC's CEO. "Our radome products meet the RF performance and environmental challenges of these exposed hard weather sites, while simultaneously extending the operational ability and lifetime of the antenna system."

Antennas for Communications manufactures satellite and terrestrial antennas, radomes, microwave and waveguide components and Tallguide ®, an ultra low transmission loss waveguide. The company serves the satellite, broadcast, communications, cable, radar, weather and government industry worldwide.

/Contact. Dr. Ron S. Posner
of Antenna for Communications, (352) 687-4121.




For more information on AFC's radome product line, please refer to AFC's Radome Network Home Page.
A complete Internet WWW AFC site index may be found in Antennas for Communications (AFC) Home Page Document Summary List. Additional press announcements may be found in the press release section of the site index.

 Return to AFC Profile  Return to Radome Network Home Page   Return to AFC Home Page


Antennas for Communications
2499 SW 60th Ave, Ocala, FL 34474
Tel (352) 687-4121 Fax (352) 687-1203 Email sales@afcsat.com

Tallguide is a Registered Trademark of Antennas for Communications
Copyright © 2001 Antennas for Communications